Japanese Railways Series 1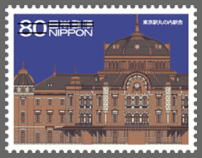 C2155a
| | | |
| --- | --- | --- |
| | | |
| C2155b | C2155c | C2155d |
| | | |
| C2155e | C2155f | C2155g |
| | | |
| C2155h | C2155i | C2155j |
Issue
Japanese Railways Series 1
First Day
October 11, 2013
Value
¥ 80 x 10
Sheet
Designs
C2155a - The Marunouchi of Tokyo Station
C2155b - Odakyu 3000 series
C2155c - JNR 151 series
C2155d - Kintetsu 10100 series
C2155e - JNR Kiha81 series
C2155f - Meitetsu 7000 series
C2155g - Kintetsu 20100 series
C2155h - Odakyu 3100 series
C2155i - JNR Shinkansen 0 series
C2155j - JR-EAST operated Shinkansen E5 series
Designer
Maruyama Satoru (stamp designer)
Printing
Photogravuer in 6 colors
Size
33.5 x 25.0mm, vertical
Japanese Stamp Specialized Catalog (JSCA) & SAKURA Catalog numbers are adopted.
---
( Back to Menu )
---
(Small Notes for the issue)
This is the first issue of Japanese Railways Series with the theme of Japanese Railways and its related topics. The stamps were issued to commemorate National Train Day that was enacted to celebrate the first locomotive train raunning between Shinbashi and Yokohama in 1872. The stamps depict the Tokyo Marunouchi Station and Blue-Ribbon Award trains.