Establishment of Tsunami Preparedness Day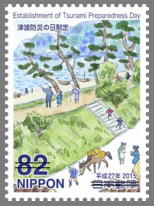 C2238

Issue
Establishment of Tsunami Preparedness Day
First Day
November 5, 2015
Values
¥82
Designs
C2238 - Hiromura Embankment appeared in
the story of gthe Fire of Inamurah
Designer
Fujimoto Shirou
(watercolor landscape painter, picture book painter)
Printing
Offset in 6 colors
Size
25.0 x 35.5 mm, vertical
Sheet
10 stamps (2 x 5)
Sheet
Japanese Stamp Specialized Catalog (JSCA) & SAKURA Catalog numbers are adopted.
---
[Note on the Stamps]
This stamp was issued to commemorate "Tsunami Disaster Prevention Day" on November 5, which was enacted by the Act on the Promotion of Tsunami Countermeasures. This memorial day was enacted based on the story of "the Fire of Inamura (Rice Sheaves)" that setting fire to rice sheaves to guide people who failed to escape in the darkness to high ground when tsunami struck Wakayama Prefecture caused by Ansei Nankai Earthquake on November 5, 1854 (old calendar).