The 99th Lions International Convention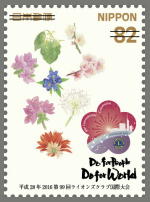 C2261
Issue
The 99th Lions International Convention
First Day
May 6, 2016
Values
¥ 82
Designs
C2261 - Convention logo and flower of
eight prefectures in Kyushu area
Designer
Nakamaru Hitomi (stamp designer)
Printing
Offset in 6 colors
Size
28.0 x 38.5 mm, vertical
Sheet
10 stamps (2 x 5)         
Sheet
Japanese Stamp Specialized Catalog (JSCA) & SAKURA Catalog numbers are adopted.
---
[Note on the Stamps]
This stamp is issued to commemorate the 99th convention to be held for five days from June 24, 2016 in Fukuoka Prefecture.
Lions Clubs International is the world's largest service club organization with nearly 1.38 million members and holds the international convention around the world every year. Plum flower, the logo of the convention, depicted on the stamp is the official flower of Fukuoka Prefecture which is the hosting venue.