Greetings Simple ¥82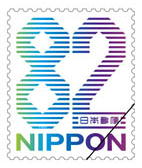 G159
Issue
Greetings Simple ¥82
First Day
May 17, 2017
Value
¥82 x 1 (Self-adhesive)
Designs
G159 - Gradation
Designer
Kaifuchi Junko (stamp designer)
Printing
Offset in 5 colors
Size
18.5 x 22.5mm,vertical
Sheet
50stamps (10 x 5)
Sheet
Japanese Stamp Specialized Catalog (JSCA) & SAKURA Catalog numbers are adopted.
---
[Note on the Stamps]
The stamp is good to use for greeting by mailing in various occasions. As suitable for any letter, "82", which is the value of the stamp is designed simply. Stamp sheets can be folded compactly or delivered into parts along the perforation.