100th Anniversary of Commissioned
Welfare Volunteers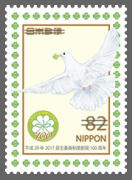 C2317
Issue
100th Anniversary of Commissioned Welfare Volunteers
First Day
May 12, 2017
Value
¥82
Designs
C2317 - White dove carrying a clover
Designer
Nakamaru Hitomi (stamp designer)
Printing
Offset in 6 colors
Size
24.9 x 35.3mm,vertical
Sheet
10 stamps (2 x 5)
Sheet
Japanese Stamp Specialized Catalog (JSCA) & SAKURA Catalog numbers are adopted.
---
[Note on the Stamps]
The stamp is issued to commemorate the 100th anniversary of establishment of commissioned welfare volunteer system. The design of the stamp is derived from the logo of commissioned welfare and child welfare volunteers, a dove as a symbol of peace on a four-leaf clover which brings happiness.