Traditional Japanese House Series 2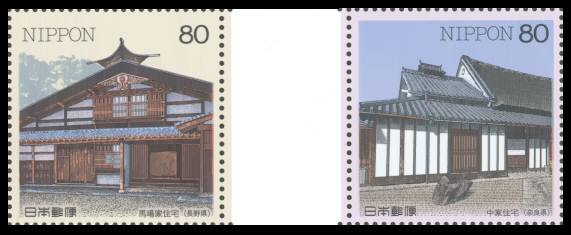 C1636: House of the Babas, C1637: House of the Nakas



Issue
Traditional Japanese House Series 2
Date of Issue
23 February 1998 (Heisei 10)
Denomination
80 yen x 2
Quantity
10,000,000 copies each
Designs
C1636: House of the Babas
C1637: House of the Nakas
Image Area
36.0 x 36.0 mm, square
Printing
Photogravure in 5 colours
and Intaglio in 1 colour
Sheet
20 stamps (two sets of 2 x 5)
Photographers
C1636: Kanematsu Fumiaki
C1637: Hibi Sadao
Engravers
C1636: Uematsu Kouji
C1637: Sasaki Hirofumi
First Day of
Issue Postmark
(Hand-struck one)
Matsumoto-minami Post Office
Nara Central Post Office
Japanese Stamp Specialized Catalog (JSCA) & SAKURA Catalog numbers are adopted.
---
(Back to Menu)
---
(Small Notes for the Issue)

Traditional Japanese House Series 2

C1636: The stamp depicts "House of the Babas," which is a typical house around the southwestern part of Nagano prefecture recognized by the decoration on a ridge of roof called "suzume-odoshi (threatening sparrows).
C1637: The stamp depicts "House of the Nakas," a grand house surrounded by double ditches in Nara prefecture, which is appointed as an Important Cultural Property of Japan.