My Favourite Song Series 6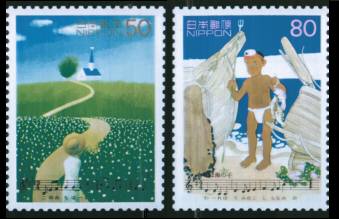 C1617: Kono-michi, C1618: Ware-wa umi-no ko


Issue
My Favourite Song Series 6
Date of Issue
6 July 1998 (Heisei 10)
Denominations
C1617: 50 yen
C1618: 80 yen
Quantity
24,000,000 copies each
Designs
C1617: "Kono-michi"
(this way)
C1618: "Ware-wa umi-no ko"
(I am a child of the sea)
Image Area
25.0 x 33.5 mm, vertical
Printing
Photogravure in 6 colours
Sheet
20 stamps (4 x 5)
Designers
C1617: You Shoumei
C1618: Murakami Tsutomu
First Day of
Issue Postmark
Tokyo Central Post Office
Japanese Stamp Specialized Catalog (JSCA) & SAKURA Catalog numbers are adopted.
---
(Back to Menu)
---
(Small Notes for the Issue)

C1617: "Kono-michi (this way)," was composed by Yamada Kousaku (1886-1965), and the words by Kitahara Hakushu (1885-1942).

C1617: "Ware-wa umi-no-ko (I am a child of the sea)," was anonymous.