Traditional Japanese House Series 3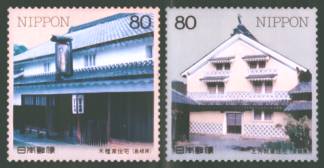 C1638: House of the Kowatas, C1639: House of the Kamihagas


Issue
Traditional Japanese House Series
Date of Issue
22 June 1998 (Heisei 10)
Denomination
80 yen x 2
Quantity
20,000,000 copies each
Designs
C1638: House of
the Kowatas
C1639: House of
the Kamihagas
Image Area
36.0 x 36.0 mm, square
Printing
Photogravure in 5 colours
and Intaglio in 1 colour
Sheet
20 stamps (two sets of 2 x 5)
Photographer
Hibi Sadao
Engravers
C1638: Sasaki Hirofumi
C1639: Uematsu Kouji
First Day of
Issue Postmark
(Hand-struck one)
Shinji Post Office
Uchiko Post Office
Japanese Stamp Specialized Catalog (JSCA) & SAKURA Catalog numbers are adopted.
---
(Back to Menu)
---
(Small Notes for the Issue)

C1638: House of the Kowatas is the one of sake (rice wine) brewer in Shimane Prefecture, which was built in the 18th century. It is known as "Yakumo Honjin (the appointed inn in Yakumo)" that the successive feudal lords of the area used the house when he inspected his country.
C1639: House of the Kamihagas was built at the end of the 19th century in Ehime Prefecture. The characteristics of the house are its windows with grilles and eaves, thick plaster walls, and partial walls covered with square tiles jointed with raised plaster.