The 50th Anniversary of Fire Service in Japan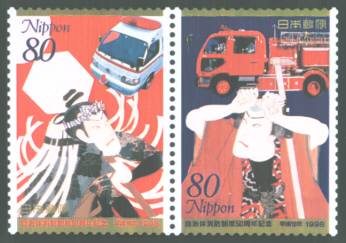 C1667:Fireman in the Edo period, C1668: Edo Fireman and modern fire engine



Issue
The 50th Anniversary of Fire Service in Japan
Date of Issue
6 March 1998 (Heisei 10)
Denomination
80 yen x 2
Quantity
12,000,000 se-tenant pairs
Designs
C1667: Fireman
in the Edo period
and a modern ambulance
C1668: Fireman
in the Edo period
and a modern fire engine
Image Area
25.0 x 38.5 mm, vertical
Printing
Photogravure in 6 colours
Sheet
20 stamps (4 x 5)
Original Picture
Toyohara Kunichika
Photographer
Kanematsu Fimiaki
First Day of
Issue Postmark
Tokyo Central Post Office
Japanese Stamp Specialized Catalog (JSCA) & SAKURA Catalog numbers are adopted.
---
(Back to Menu)
---
(Small Notes for the Issue)

C1667-1668: The Fire Service Organization Act took effect on and after 7 March 1948. The commemorative stamps depict firemen in the Edo period (1600-1868), a modern ambuloance and a modern fire engine.