Men of Culture 1998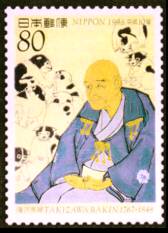 C1690: Takizawa Bakin (1767-1848), C1691: Fujiwara Yoshie (1898-1976)
Issue
Men of Culture 1998
Date of Issue
4 November 1998 (Heisei 10)
Denomination
80 yen x 2
Quantity
20,000,000 copies each
Designs
C1690:
Takizawa Bakin (1767-1848)
C1691:
Fujiwara Yoshie (1898-1976)
Image Area
C1690: 25.0 x 35.5 mm
C1691: 28.0 x 38.5 mm
Printing
C1690: Photogravure in 4 colours
and Intaglio in 1 colour
C1691: Photogravure in 5 colours
and Intaglio in 1 colour
Sheet
10 stamps (2 x 5)
Designers
C1690: Aoki Gishou
C1691: Oikawa Shigeru
First Day of
Issue Postmark
Tateyama Post Office
Shimonoseki Post Office
Japanese Stamp Specialized Catalog (JSCA) & SAKURA Catalog numbers are adopted.
---
(Back to Menu)
---
(Small Notes for the Issue)

C1690: Takizawa Bakin (1767-1848) is famous for his historical romance, Nansou Satomi Hakkenden (1814-1842). While composing the celebrated romance he lost his eyesight; the work was completed with the aid of his daughter-in-law in 1841.

C1691: Fujiwara Yoshie (1898-1976) founded Fujiwara Opera in 1934. The company mounted the first full-scale opera produced in Japan.