My Favourite Song Series 7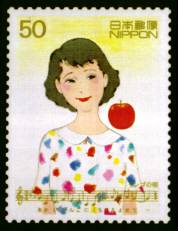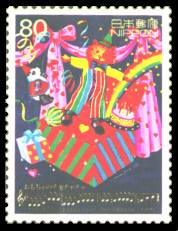 C1619: "Ringo-no uta" (50 yen), C1620: "Omocha-no cha-cha-cha" (80yen)
Issue
My Favourite Song Series 7
Date of Issue
24 November 1998 (Heisei 10)
Denominations
C1619: 50 yen
C1620: 80 yen
Quantity
C1619:
24,000,000 copies
C1620:
30,000,000 copies
Designs
C1619:
"Ringo-no uta"
(the apple song)
C1620:
"Omocha-no cha-cha-cha"
(toy's cha-cha-cha at night)
Image Area
25.0 x 33.5 mm, vertical
Printing
Photogravure in 6 colours
Sheet
20 stamps (4 x 5)
Designers
C1619: Nadamoto Tadahito
C1620: Hiro Yamagata
First Day of
Issue Postmark
(Hand-struck one)
Masuda Post Office
Japanese Stamp Specialized Catalog (JSCA) & SAKURA Catalog numbers are adopted.
---
(Back to Menu)
---
(Small Notes for the Issue)

C1619:"Ringo-no uta (the apple song)" was composed by Manjome Tadashi with the words written by Satou Hachiro. The song is famous for cheering up the Japanese people immediately after the World War II.

C1620:"Omocha-no cha-cha-cha (toy's cha-cha-cha at night)" was composed by Koshibe Nobuyoshi and the words by Nosaka Akiyuki and Yoshioka Osamu. Nosaka is a novelist.