Tokyo University Kiso Observatory and Mt. Ontake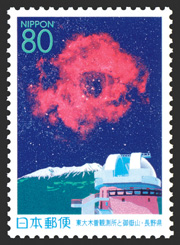 R280
Issue
Tokyo University Kiso Observatory and Mt. Ontake
Prefecture
Nagano
Date of Issue
9 April 1999 (Heisei 11)
Denomination
80 yen
Design
Tokyo University Kiso Observatory and Mt. Ontake
Quantity
6,000,000 copies
Image Area
22.5 x 33.0 millimeters
Printing
Offset in 5 colours
Sheet
20 stamps (4 x 5)
Designer
Takasuka Masaru (Water Colour Painter)
Sold at
Post offices in Nagano and Niigata, and
the appointed post offices (see the menu page)
First Day of
Issue Postmark
Mitake Post Office
Catalog No.
R280
Tokyo University Kiso Observatory and Mt. Ontake, Pane
| | |
| --- | --- |
| Issue | Tokyo University Kiso Observatory and Mt. Ontake, Pane |
| Price | 800 yen (80 yen x 10) |
| Pane Size | 51.0 x 190.0 millimeters |
| Pane | 10 stamps (2 x 5) |
| Catalog No. | R280P |
Japanese Stamp Specialized Catalog (JSCA) & SAKURA Stamp Catalog numbers are adopted.
---
(Back to Menu)
---
(Small Notes for Issue)


It marks the 25th anniversary of the Tokyo University Kiso Observatory on 11 April 1999. The Kiso Observatory is the fifth one of Tokyo University, which has a 105-centimeter-Schmidt telescope. The stamp depicts Rosette nebula obwerved by the institute, the dome of the observatory, and Mt. Ontake.